The formulation and development of the town was very much influenced by its natural environment. It lies at the meeting point of the mountains (Eperjes-Tokaj volcanic range) and the northern continuation of the Great Plane, on the river Bodrog, which separates but at the same time connects the various geographical regions.
According to the findings, the area has been continuously populated since the arrival of the Magyars into the Carpathian Basin.
In the middle of the 11th century king Andrew I made the town the center of the royal forests since hunting in the area was his favourite pastime, and also because his wife Anastasia of Kiev liked spending her time here, near her home country.
The medieval town was a one street settlement. On the spindle-shaped square there stood the parish church which was later reconstructed and extended several times, and was transformed into a late-Gothic hall church. It has been restored in this style.
The castle with its defense structure is one of Hungary's most valuable monuments, part of our national heritage. Between 1534 and 1537 were built a residential tower in late Renaissance style and a new wing to the castle.

Later the political significance of the town increased. It became the seat of princes and the cradle of the war of independence in the 17th and 18th centuries.
Since 1950 the castle has housed the Rakoczi Museum. The exhibitions give an authentic description of its history.
Within the walls of the outer fortress there were several significant medieval residential houses, parts of which are still visible.
With the ideas of the Reformation spreading rapidly, a Calvinist College was established in Sárospatak in 1531. By the end of the 16th century the school had gained strength, and since then it has played an important role in the history of the Hungarian Reformed Church, as well as the Hungarian education and culture.

Sárospatak became known as the "Athens on the bank of the Bodrog river" in the last century. In the light of the role it has played in the Hungarian culture, education and history, its past and traditional-bound present, the school town well deserves this denomination.
Sárospatak has preserved the structure and the major transportation routes of the medieval town. The present townscape bears the imprint of the architect Imre Makovecz, who designed a number of beautiful buildings such as the Culture House, The Árpád Vezér Secondary Grammar School etc.
Sárospatak was awarded the Hild medal in 1987, for the "mastery mix of traditional and modern" in town development.
The thermal bath of the town has 49 0C thermal water containing various minerals which offer effective treatment and aftercare for locomotor disorders and gynecological diseases.
Impressions about Sárospatak (Photo album)

Source: Tamás Szvitankó
The Árpád Vezér School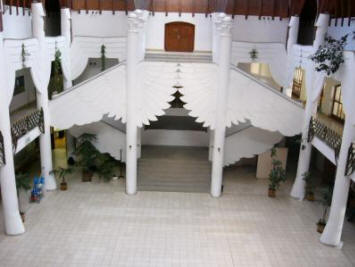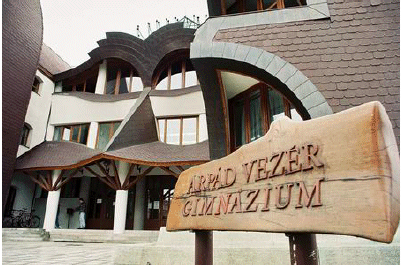 Árpád Vezér Secondary School, Arany János street 3-7, Tel.: (+36 47) 312-140